Hey #INKPLAY Family!
First off, 2023 is starting off with a bang!
We've just launched Ink & Release Tour - a highly transformational speaking tour about being your authentic self.
We have a lot in store from DC to Japan for all types of creatives entrepreneurs who are stepping onto their path as an expert or thought leader. It's going to be amazing!
And I'm hoping you'll join me and #TeamLIPS.
Later, we're talking about a piece that was in progress late 2022. And we recently finished. Owwww ~
But what about what we're starting or continuing?
Florals, Foliage and Freedom
A Tattoo Visualization Journey
How It Works
January was definitely a vibe for foliage and florals. Which is great cuz it's dreary outside. So, the least we can do is create amongst pretty flowers and green trees. Or at least the idea of it ~
These pieces - apart, are very special on it's own. But humor me as I take you on a journey to create an entirely new piece from these 3 unrelated pieces.
This game that we're playing doesn't have a name, but it is a game we play with our apprentices to help develop an endless imagination for tattoo ideas.
This is important so that we don't get creative block, because when art'ing for trade ... any type of creativity block can be detrimental. Also there's nothing new under the sun. So we're able to help apprentices learn how to push ideas in the client's long-term interest, not just for what they want in the now.
So here's how it works. They normally have a jar of a bunch of random topics, ideas and words. It's just as if someone wanted a tattoo but didn't know what they wanted. They've given some thought and may not go as far as to say "I don't know you're the artist". But it's a bunch of half-baked ideas and word vomit. LOL
Whatever words they draw at random, they'd have to make it make sense by creating something from it.
In this - our words are forest, flowers, and freedom.
You ready? Cuz we're gettin' creative.
Creating an Atmosphere
Of the 3 words, two are things and one is a feeling. So we'll start with the two things to create an environment.
(*ahem* I HATE tattoos that just float or look like stickers)
First, we have these beautiful trees that is creating an amazing ancestral back piece for our friend, Amira.
She's chosen 5 important trees to her and a few Adinkra (West African symbols) to create a piece of armor unique to her.
Together the trees, remind me of a beautiful forest.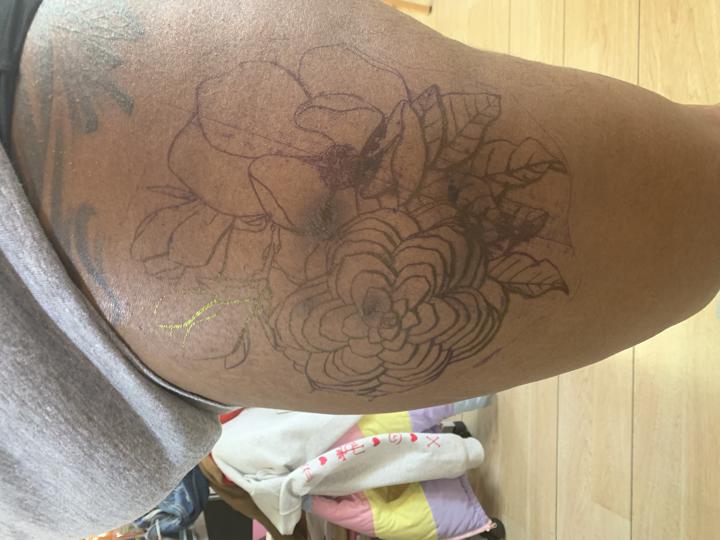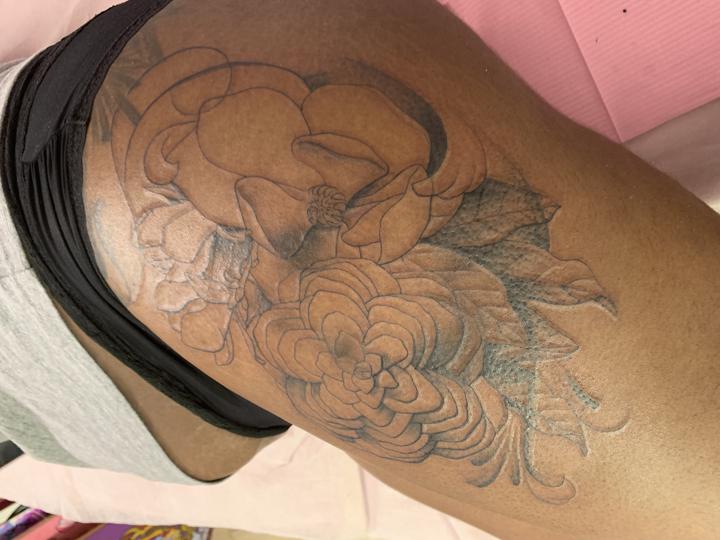 Next, let's look at the floral bouquet Keish's creating on her body.
This girl is going to be covered in flowers and look like a walking perfume bottle, OKAY! I'm so excited for her life because all the flowers she chooses mean something.
It's like ikebana on da body.
Together these pieces create an ecological magic like what you'd find in Miyazaki and Studio Ghibli's My Neighbor Totoro.
Now, What Does Freedom Look Like?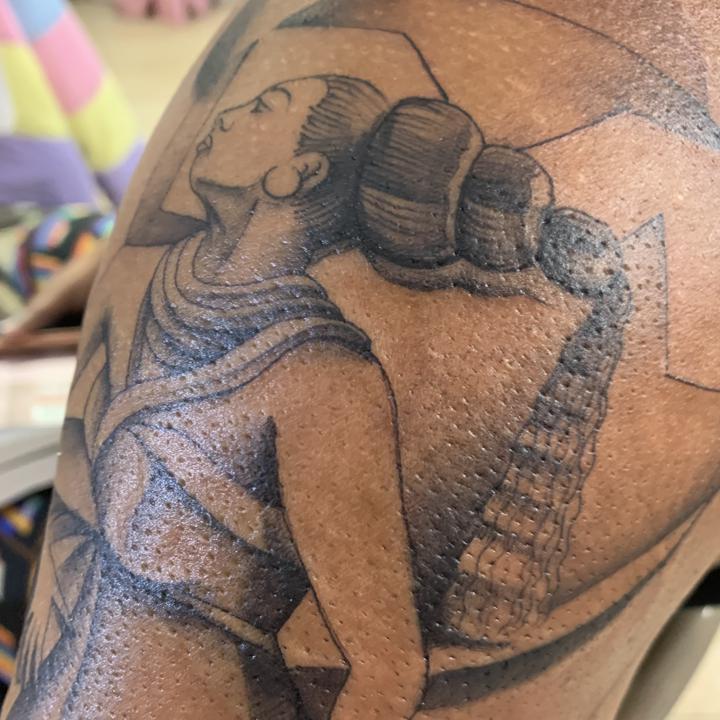 When people give me a vibe or a feeling they're trying to evoke, I ask them what does it look like?
So that's all we're going to do here - what does freedom look like? No .. really! *yikes*
Well, the afro-futurstic Igbo priestess with the vibe of Josephine Baker that's in progress - a celebration of life tattoo - is the perfect visual.
What We've Created
Now that we know what freedom looks like, imagine her in this lush af forest happily and freely dancing among the trees and florals.
Her dress is swaying, the sun gently kisses her skin.
It's like if happiness were a tattoo itself.
hope you enjoyed this tattoo visualization journey, with me.
Til next update!
Book a consultation so we can visualize your first (or next) piece, together.
I know you are ready to tell your UNIQUE stories on skin.
Your tattoos are clothes. That should fit you – reflecting your personal style & journey, what you have overcome and where you are headed! 
I style a lot of large-scale one-of-akind tattoo and can do the same with you.